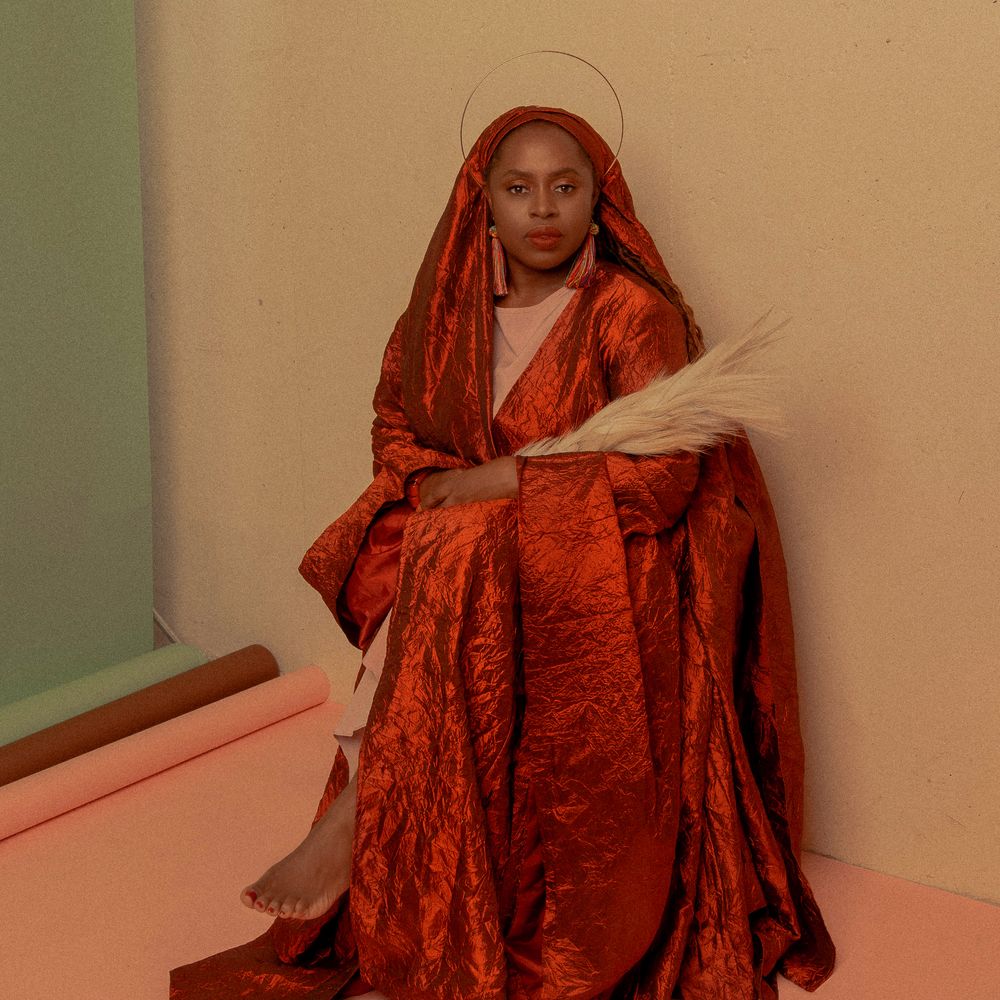 ABOUT TOSINGER
Singer I Songwriter I Storyteller
Atlanta based Nigerian Afro-Indie Singer/Songwriter TOSINGER, comes with an earthy musical flow that's soulful as it is a sheer loveliness of healing and heavenly inspiration.
Atlanta based AfroJazz/FolkSoul Nigerian Singer/Songwriter/Storyteller, TOSINGER is a sweet spirited multigenre indie artist with almost 20 years musical experience performing  over the years across three continents from Africa, Europe to North America at various festivals, intimate music spaces, churches, concerts and events. Tosinger's style is soulful and ambient while reflecting her African roots as she sometimes incorporates traditional Yoruba folklore and cultural vibes on a contemporary musical platform. Her vocal essence has been described as soothing and uplifting and her voice displays a simple conveyance of soulful heartfelt richness and healing. Her brand aesthetics and message are mostly to bring healing and inspiration to humanity one listener at a time and to promote the African culture in the diaspora. Her musical essence is influenced by the likes of Miriam Makeba, Nina Simone, Letta Mbulu & Cesaria Evora to name a few. 
Tosinger refers to her music as "healing or inspirational music". She released 'FINALLY' an EP of 6 tracks in 2012 and in 2013 digitally published her 'AfroSpire' Demo. Tosinger independently released her original full studio debut album titled 'Organically Singing' in 2015 which is currently available on all major digital outlets including iTunes, Spotify and Amazon. A Women4Africa UK 'International Woman of the year' awardee for her role behind and in-front the entertainment scene, Tosinger was also an opening act for the legendary AfroJazz Musician, Lagbaja during his US tour at the notable Variety Playhouse, Atlanta. Since her relocation to the US, she has also performed at Shrine World Music Venue, Felabration Festival, Inman Park Festival, Meridian 23, Freedom Park, International Women's Day Atlanta, Women in Film and TV Atlanta showcase, Variety Playhouse, SouthWest Arts Center Atlanta, Word of South Festival Florida, Zoo Atlanta  among others. Tosinger is very much on her way to warming her music into the hearts of lovers of organic, afrosoul/world, conscious/inspirational music globally. Apart from being a Singer/Songwriter, Tosinger is also an actress, and an artpreneur, she curates arts and music events, promoting upcoming artists through her outfit - Dreamweavers Entertainment & Terra Cotta International. She is passionate about preserving the art of African folktales oral storytelling and shares  stories on her youtube channel - Tales With Tosinger . She has also written a children's short story book  "Seven Afrofolk Tales in Seven Days" available on Amazon . She also co-hosts the 'African Experience Worldwide show' radio program on WRFG 89.3 FM Atlanta.
With a background in musical theater, Tosinger was a part of the vocal ensemble of select Broadway Musicals including 'GodSpell' and 'Rent' in London, UK. Tosinger is currently contributing her talent and essence to Hollywood productions, acted in indie films/TV/webseries and theatre stage productions including being a prominent cast member of  'A Song for Adaeze', an afrofuturistic musical performed at the Atlanta Black Theatre Festival, bringing to life African narrative through the authenticity of self while expressing relatable human stories. 
Her latest 2020 release is a song titled "IRE -Heal the world", a song of healing for the pandemic season and beyond. She loves to play and incorporate the lap steel guitar in her personal music expressions, (probably the first female Nigerian singer to do so) as inspired by its unique use in the Juju music of King Sunny Ade of her home country, Nigeria. 
An Ep of 3 songs titled 'Ode to Accra' inspired by her love of the city and her people and the connection to the diaspora was released in the Summer of 2021, titles include 1. Find Your Way Back Home ft Bubunae 2. City Vibrations 3. Se Daadaa Le Wa?. It is downloadable on all streaming platforms here.
Presently, she is tapping into the healing nature of her gifts and essence to create more music and wellness products. She is passionate about connecting Africa and the diaspora through the arts, culture and wellness/holistic services and events curation.
2022 Project
The #We3Queens Project - PERFORMANCE ARTIST/MUSE 
Tosinger brings her method acting skills to her role as an African Queen Mother and Producer of #We3Queens, a unique live art/human installation performance art project to create awareness and exude the empowering energy of powerful Queens who reigned in African countries. More here 
Short Bio
ABOUT TOSINGER 
Atlanta based Afrosoul/Afrofolk Indie Singer-Songwriter TOSINGER, has been singing for more than two decades in Nigeria, the UK and now in the US.  With a couple of published works to her name, her music displays a heartfelt conveyance of originality and inspirational lyrics. 
Tosinger expresses an afrocentric sublime musical flow that is soulful and folksy, sometimes jazzy, with subliminal messages incorporating her Yoruba language and cultural sounds which sits her comfortably in the world music space. 
An eclectic artist in her own right, Tosinger is also an actress and an event curator. 
For more info, please visit www.tosinger.com 
Twitter and Instagram @Tosinger